Seaport Transfer
The company "AALUX" offers to use the services and order a transfer to any port in the UK. Is it necessary to specify that the rest will begin as soon as you find yourself in a comfortable auto salon of the company "AALUX" class LUX
You do not have to worry about the transportation of luggage, in this case, the attentive driver will help you and offer you an exciting trip to the desired port for you. If necessary, the company will provide a comfortable Mercedes E-Class, a spacious minibus Mercedes V-Class or Mercedes Sprinter from 13-19 seats.
Our drivers know all the ports of Great Britain very well and will deliver you to the port of Southampton,Portmonth, Dover, Norwich and other ports without delay ...
And do not forget to specify the date of your return, the car of the company "AALUX" will be waiting for you in the port at the appointed time, the return transfer will seem no less fascinating.
We hope that your vacation will be successful, we will also save you from the hassles of public transport and trouble with luggage and deliver you to the port at the appointed time.
Transfer to Southampton sea port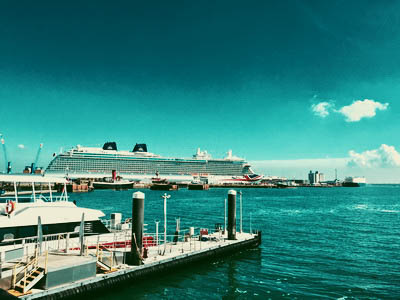 Southampton is a famous cruise sea port which is rather popular among express cruiser travelers. This warm-water seaport is packed with tourists all year long. You can order a transfer to Southampton sea port through our website and experienced and well-qualified chauffeurs are eager to drive you to the port or to a hotel 24/7. Our customers can rely on our personnel's punctuality, their politeness and professionalism as well as on reasonable price of our services. The Southampton transfer price is fixed and there is no use of worrying about paying extra.
Transfer to Portsmouth sea port by the AALUX company
You are welcome to book a transfer to a large Portsmouth International Port. From that time on every tourist has a chance to hire a Russian-speaking chauffeur who knows the route perfectly. To book your transfer to Portsmouth simply call us or book your trip online in our website. We will drive your wherever you need to urgently or precisely at the time you choose.
Transfer to Dover sea port by professional drivers
Dover is a British sea port located about 120 kilometers to the South-West of Central London. It is mainly a sea cruise port. From that time onwards you can get there not only by bus as you can book a transfer to Dover through our company. We offer both a corporate chauffeur service and a trip in executive-class cars. Fixed price is the characteristic feature of dealing with our customers. Business people who are fond of saving money, will certainly appreciate the option. The transfer to Dover sea port is made by the time indicated by a customer and we can also make the customer's luggage delivery.
Transfer to Norwich sea port: professional work
Norwich cruise sea port is another popular option among tourists and officials in a business trip in Great Britain. You can book a transfer to sea port Norwich or from the port to a hotel in advance through our website. We offer executive-class cars with a spacious trunk and climate control system which will help you to enjoy even the longest trip in the most comfortable conditions. Transfer to sea port Norwich is a professional service rendered by our experienced drivers who know the route perfectly well and who will arrive to meet you on time. That is not all. According to the customer's request they can meet them at the sea port.
Therefore AALUX is a chauffeur service with Russia-speaking drivers which will do their best to make your travel around Great Britain or your business trip a cakewalk. You are welcome to call to our traffic control centre and to find out whatever necessary about booking a transfer.
Dear travelers!
In case one of the points of your cruise destination is Southampton, we are eager to offer the following tours to you:
Salisbury tour
Small and narrow streets of the town famous for its ancient architecture and world-known Cathedral with the highest spire in England as a part of the magnificent landscape around which we will visit will leave no one indifferent.
Stonehenge tour
We are glad to offer to touch a secret of one of the most enigmatic places on the Earth. The Stonehenge rocky structure built in Neolithic age has survived and still makes everyone excited. The tour guide will tell you a great number of facts, hypotheses and legends connected with the old monument.
Winchester tour
Let's get plunged into unforgettable atmosphere of the former capital of the Anglo-Saxon kingdom with pompous buildings, rich history and the magnificent Cathedral.
Southampton tour
The tour includes an excursion around port city Southampton and a museum of notoriously famous cruise ship the Titanic.
Arundel Castle tour
One of the most pompous and impressive castles will flung open its doors for you. Â We will learn some facts from the history of one of the oldest English aristocratic dynasties and will enjoy our walk along beautiful gardens there.
Wilton House tour
Let's visit the country seat of the Earls of Pembroke magnificently surrounded by the typical English landscape. You will enjoy luxurious interior design and a wonderful story.
London panoramic tour
We are glad to offer a panoramic tour around the city including visiting to most famous historic places to take a panoramic picture.